ECCOE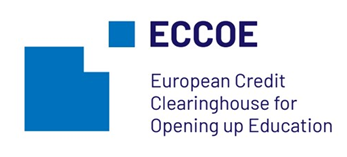 The project aims to support mobility in the European Higher Education Area by developing an "ECCOE-system" for the recognition of digital credentials. The main aim is to facilitate the endorsement and appropriation of open, online and flexible higher education. In support of this overarching objective, the project aims to increase trust in technology-enabled credentials among students, higher education institutions (HEIs) and employers.
| | |
| --- | --- |
| Project title: | ECCOE – European Credit Clearinghouse for Opening up Education |
| Project No: | 2019-1-FR01-KA203-062951 |
| Project web page: | https://eccoe.eu |
| Project coordinator: | Fondation UNIT (France) |
| Contact person at VMU: | A. Volungeviciene  airina.volungeviciene@vdu.lt |
| Project run: | 36 moths (September 2019 – August 2022) |
| Project budget: | 449450 EUR |

Partners:
Activities and outputs:
Develop quality descriptors for courses, modules, MOOCs and groups of competences;
Create and validate a Model Credit Recognition Agreement which will be available in 7 languages (DE, EN, ES, FR, IT, LT, NL);
Set up an online catalogue of over 60 disciplinary and transversal modules which have passed the selection criteria for cross-institution recognition;
Design a system for technology-enabled credentials;
Lay the ground for wider take-up via the ECCOE-system network and piloting, by producing and disseminating the supporting documentation that institutional stakeholders need.
National events will take place in the different partner Member States to disseminate the results and involve external stakeholders in ECCOE activities, with the support of public consultations, research papers, online resources and social media.
Expected impact:
Higher Education Institutions: efficiency, quality, transparency.
Learners: transparency, mobility, employability.
Teachers: objectivity of assessment, time-saving.
Employers: trust in qualifications.
Policy-makers: systemic vision of the conditions required for the take-up of digital credentials.
Other news:
Synergies among international projects addressing online teaching and learning challenges