OER-Codex courses "Digital Resources" and "Case Study Design" were presented at an international dissemination event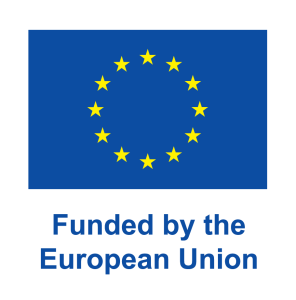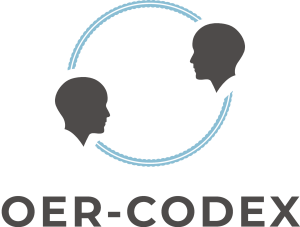 An international virtual multiplier event, "Open Educational Resources (OER) for Collaborative Online & Distance Education and eXchange", was organized as part of EDEN EODLW2023 on 9 November 2023.
The session was organized in the framework of the Erasmus+ "OER-Codex" project to introduce a conceptual framework of Collaborative Online International Learning. The event aimed to present the conceptual background of COIL, provide recommendations on organising and managing COIL projects, explain why teachers should apply COIL projects in their teaching and learning, and show how to set up online collaborative learning courses with digital resources. Event participants were introduced to the training materials of the "Digital Resources" and "Case Study Design" courses developed within the OER-Codex project framework.
Next, the virtual learning environment, types of certificates, and micro-credentials were presented to inform participants of the possibility of developing their competencies in designing OER-supported collaborative online learning.
The multiplier event was organized by Vytautas Magnus University team, which, together with partners from TU Dresden (Germany), KREMS (Austria), and EMUNI (Slovenia) are implementing the "OER-Codex" project.
Recording of the session is available here. Learn more about the project – https://www.oer-codex.eu/
Digi-Prof Transnational Project Partner Meeting
The Digi-Prof Transnational Project Partner Meeting took place at the Baden-Württemberg State University in Heilbronn, Germany, from 11 to 12 October, 2023.
During the meeting, guidelines for higher education institutions on how to implement transparent assessment of learning achievements in online or blended learning for micro-credentialing were presented and discussed. Progress in the development of 10 subjects for virtual and blended distance collaboration between institutions was also discussed.
As a reminder, the teaching materials developed in the Digi-Prof project are available to higher education teachers in six languages (Lithuanian, English, German, Catalan, Portuguese and Polish):
Designing transparent assessment strategies for online learning in HE
Monitoring, supporting, and engaging students based on the evidence generated by digital technologies
Ensuring digital and micro-credentialization of learning as a part of transparent assessment for recognition of learning outcomes
Training materials are openly available and can be accessed on the project website.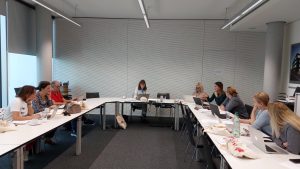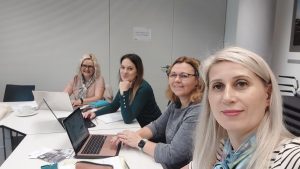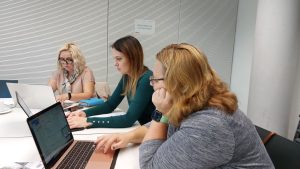 OER-Codex project meeting at VMU in Vilnius
The OER-Codex project transnational partner meeting took place at Vytautas Magnus University in Vilnius on 22 September 2023. The partner meeting aimed to overview the project progress, primarily focusing on the progress of Cluster 1 on Open Educational Resources for Collaborative Learning content development and piloting. The project team discussed the piloting process of Clusters in detail and planned the timeline to ensure timely output delivery.
Project partners:
Technische Universitat Dresden, Germany
Evro-sredozemska univerza, Slovenia
Vytautas Magnus university, Lithuania
IMC Fachhochschule Krems, Austria
The meeting was a great place to foster collaboration and exchange of ideas among project partners and strengthen the partnership in a mutual project quality-oriented approach.
The aim of the project is to develop OER course modules, conveying digital teaching and learning methods of online collaborative learning in a blended learning context for educators in higher education (HE), aiming to increase the capacity and readiness of HE institutions to manage an effective shift towards digital education.
For more information about the OER-Codex project, please check the project website or contact project researcher Giedrė Tamoliūnė (giedre.tamoliune@vdu.lt).
Recommendations for teachers before the start of the new semester
Dear Teachers,
With 2023 autumn semester approaching quickly, we kindly remind you and recommend updating the following information in your Moodle courses:
Change the date of the First lecture and specify the date of the Last lecture (if you do not know it, indicate the last day of the semester – January 31). Administration -> Course administration -> Edit settings -> change Course start date and Course end date.
Update the dates of existing activities. It is possible to check and see the set dates of all activities at once -> Administration -> Course administration -> Reports -> Dates.
Pay attention to whether the educational material is available (visible) to students (you can check this by activating the student role by clicking on your name in the upper right corner in Moodle and then Switch role to -> Student).
Delete messages from previous semesters that were sent to the learners via discussion forum.
Update the study description (the student guide).
Delete student test attempts from the previous semester (it is required if you want to add/delete questions in the test activity).
View whether uploaded video materials (videos, links, etc.) are available to students.
Pay attention whether the authorship in your uploaded slides is indicated.
News from EDEN-DLE 2023 konference "Yes we can! – Digital Education for Better Futures"
On 18-20 June,2023 VMU researchers from Institute for Study Innovations at Education academy prof. dr. Airina Volungevičienė, assoc.prof. Elena Trepulė, dr. Estela Daukšienė and dr. Giedrė Tamoliūnė and prof. Genutė Gedvilienė from Education Academy took part in the international EDEN conference "Yes we can! – Digital Education for Better Futures" at Dublin City University, Ireland. The conference focused on how artificial intelligence tools can help or hinder teaching, learning and digital assessment. Participants shared how these tools are already being used by institutions, lecturers and students, but at the same time reminded us that in order to prevent these tools from becoming more threatening, it is important to keep in mind the true nature and purpose of assessment. Another widely discussed topic, which was the focus of a large number of presentations, was micro-credentials and their role from the institutional, teacher, learner and employer perspectives. It was interesting to note that there is still a different understanding of micro-credentials, with some seeing micro-credentials as small-scale learning programs and others as digital credentials.
During the event, prof.dr. Genute Gedvilene was awarded the title of EDEN Fellow. This title is awarded to scholars for their long-term contribution to research in the field of technology-enriched education and active contributions in sharing research results in international community. Prof. Genute Gedvilene's and VMU PhD students Wang Bin paper was awarded among 8 best conference papers.  Also, during the EDEN Board meeting, the nomination of Dr. Giedre Tamoliune to become a member of the EDEN NAP (Network for Academics and Professionals) Steering Committee was approved.
VMU researchers not only gained knowledge and interest in innovative practices, but also actively participated and shared their own experiences. Estela Daukšienė moderated the European Knowledge Building Hub session "Equity and accessibility in Digital Education. Designing Strategies to Produce Equity in Knowledge-Building Activities". During the session, researchers, scholars and practitioners shared insights and ideas on the challenges of professional activities of national and regional associations and individual members of the community of practice, as well as the challenges of ensuring equity in European Knowledge Building activities in the Hub. Prof. Margarita Teresevičienė as the president of Lithuanian Distance and e-Learning Association (LieDM) also participated in the session, sharing the experiences and issues of digital education by Lithuanian educational institutions. Giedrė Tamoliūnė gave the presentation "Preparing digital micro-credentials for Universities", which presented the results of the national research project "Digital Micro-credentials in Higher Education". Presentation covered theoretical insights, as well as practical experiences, and process of issuance of a micro-credential from both – Moodle virtual learning environment, and the European Digital Credential Infrastructure in Europass. We are pleased to be one of the first to issue micro-credentials in Lithuania and to be able to share our experience with experts from around the world.
This research has been implemented within the framework of the research project "Digital Micro Credential in Higher Education" (project no. 13.1.1-LMT-K-718-05-0003). This project has received funding from European Regional Development Fund (project no 13.1.1-LMT-K-718-05-0003) under grant agreement with the Research Council of Lithuania (LMTLT). Funded as European Union's measure in response to COVID-19 pandemic.
You can watch the conference recordings of the plenary sessions on the EDEN Youtube channel.
We would like to remind you that the ISI team, together with researchers from other institutions, has developed and produced training materials that reflect the latest topics analysed in international conferences: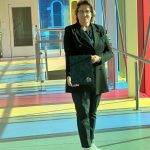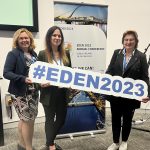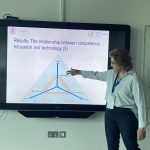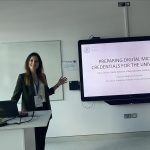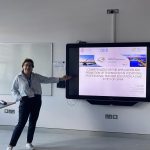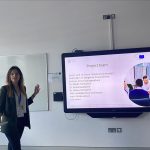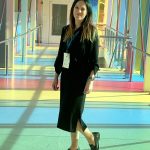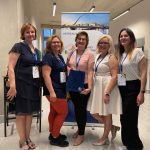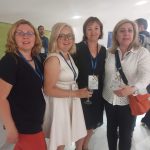 Plenary presentation at the Osijek University International Conference
On 23 May, the University of Osijek, Croatia, hosted an international conference where the plenary lecture "Student engagement from online learneing design quality perspective" was delivered by Prof. Airina Volungevičienė.
Prof. Airina Volungevičienė also presented the results obtained and being obtained in the projects:
Conference Quality of virtual studies
On 16 May Kaunas College hosted a conference on Quality of virtual studies. One of the plenary speakers was prof. Airina Volungevičienė, the presentation was "Quality of Digitally Enhanced Learning and Teaching. Institutional Self-assessment Approach".
Prof. Airina Volungevičienė spoke to the conference participants about monitoring, supporting and engaging learners based on learning data analysis. The results obtained and being obtained in the projects were presented:
For the conference programme see
Digitally competent teachers- ready for international inter-institutional online collaboration
On 9-12 May, the Open University of Catalonia, Barcelona, hosted the DigiProf project's international training for teachers. The training was focused on inter-institutional transnational cooperation between teachers and students in online or blended learning courses. Participating teachers from Vytautas Magnus University, Silesian University in Katowice, University of Aveiro, Open University of Catalonia and DHBW University in Heilbronn, deepened their knowledge of how to plan and develop virtual mobility courses, integrating elements of faculty-student collaboration. Researchers from Institute for Study Innovations at the VMU Academy of Education shared their experience and best practices on how to create a course in Moodle 4 online learning environment that is suitable for inter-institutional collaboration. Participants also learned about the processes of student registration and virtual admission, recognition of learning outcomes, as well as the possibilities and requirements for the issuance of micro-credentials. 
As well as broadening their knowledge, the participants also started collaborating across the formal courses of the universities, creating collaborative activities for students, and thus integrating innovations in higher education. The teachers sought solutions for updating the learning content to include data-driven monitoring and inclusion of learners, differentiated assessment strategies, and clear learning outcomes for the award of micro-credentials while working in international teams. 
The content of the training was based on the training materials, which had been developed in
 project. They focused on: 
The training was organised in the framework of the project Transparent Assessment of Online Learning by Digitally Competent Teachers – DIGI-PROF.
University: Future Festival 2023
On 28 April Prof. Airina Volungevičienė gave a presentation at the Festival University: Future Festival 2023
Presentation topic "Quality of Digitally Enhanced Learning and Teaching. Institutional Self-assessment Approach".
Prof. Airina Volungevičienė presented to the participants of the festival the results of the projects.
The projects presented:
University: Future festival 2023
The German Forum for the Digitalisation of Higher Education, funded by the government, together with its partners, organised University: Future 2023 festival on 28 April. Prof. Airina Volungevičienė, Director of Institute for Study Innovations, gave a presentation: Time to self-assess your institution's approach to digitally enhanced learning and teaching?
This session will focus on the why and how of undertaking a self-assessment of digitally enhanced learning and teaching in higher education institutions. It will explore the rationale behind undertaking such an exercise, namely the need to take stock of lessons learnt during the pandemic, identify areas of weakness and set strategic priorities over the coming five years. As such, it will examine how a self-assessment exercise can feed into institutional strategy development and decision-making processes. This session will present desk research and case studies undertaken as part of the DIGI-HE project (2020-2023), an initiative that has explored different ways higher education institutions can boost their strategic approaches to digitally enhanced learning and teaching and enhance their capacity. More concretely, it will inform participants of the benefits of and barriers to using self-assessment "instruments", which are tools or frameworks allowing institutions to evaluate their state of play with respect to digitally enhanced learning and teaching. It will also provide advice on how to choose an instrument which best caters for a particular institution's needs.