A new publication by ISI researchers on the potential of micro-credentials to drive social, economic and higher education innovation has been published
The year 2023 has started with great news for researchers at the Institute for Innovative Studies – the article "Exploring the potential of micro-credentials: A systematic literature review" on the potential of micro-credentials to foster socio-economic and higher education innovation has now been published in the international peer-reviewed, open-access journal Frontiers in Education (Q2)! The research was carried out within the framework of the research project "Digital Micro-Credentials in Higher Education" (project No. 13.1.1-LMT-K-718-05-0003).
The aim of the research presented in this paper is to analyse from the integrative perspective the potential of micro-credentials to foster social, economic and higher education innovations. Although the articles analysed in this paper cover the pre-pandemic and pandemic periods (2015-2022), this study aimed to synthesise the results of other researchers and provide informed insights on how further development of micro-credentials could contribute to a sustainable recovery from the COVID-19 pandemic by fostering socio-economic and higher education innovations. The results of the systematic literature review are discussed in the light of recent criticisms by other scholars that this process of micro-credentialisation poses a 'moral hazard' (Ralston, 2021, p. 95) due to its potential to accelerate the inflation and commoditisation of education.
As the study shows, the potential of micro-credentials to contribute to a sustainable recovery from the pandemic can be seen and revealed through different dimensions, for example, amongst other opportunities, they increase the chances for individuals to up-skill, re-skill, and integrate into the labour market (economic context), promote lifelong learning, remain competitive in the labour market for longer and allow for more flexibility in planning their professional development path (social context). The analysis also reveals that HEIs can be seen as both providers and innovators in the micro-credentialization process. It is important for HEIs to recognise that micro-credentials are an innovative practice that requires change and flexibility in the design of competency-based curricula to meet learners' needs. The analysis also shows that HEIs need to work more closely with the labour market, develop services and functions for the assessment and recognition of non-formal and informal learning, create opportunities for the stackability of credits, reorganise operational structures, provide the necessary infrastructure for the delivery of micro-credentials, etc. It is believed that the introduction of micro-credentials in higher education institutions could also increase the employability of graduates.
With the results and conclusions presented, the paper contributes to the recently growing field of research on micro-credentials and provides insights for further research.
Read the full article here.
This research has been implemented within the framework of the research project "Digital Micro-Credentials in Higher Education" (project no. 13.1.1-LMT-K-718-05-0003). This project has received funding from European Regional Development Fund (project no 13.1.1-LMT-K-718-05-0003) under grant agreement with the Research Council of Lithuania (LMTLT). Funded as European Union's measure in response to COVID-19 pandemic.
Lithuanian Multiplier Event on the Validation and the use of the Displayer platform
National multiplier event on the validation and the use of the displayer platform took place on the 18th of January 2023 in Kaunas, Lithuania. The aim of the event was to provide a comprehensive solution on the issuing and managing open badges and DS certificates using validation guidelines and badge quality system developed in DISCO-VET project. The results of the project, such as development of open badge displayer, development of the course on open badges, lessons learned kit and DIScoPlayer platform user guide were presented and discussed with the participating teachers, educators, and representatives of higher education, VET and other educational institutions.
The workshop focused on practice, i.e. the use of displayer platform, discussion questions and suggestions how to improve it. The workshop participants practiced how to create an account in DIScoPlayer platform, how to upload a digital badge and how to validate it. The opportunities how to become an issuer of a digital badge were also presented during the event.
The participants of the event expressed their interest to use the platform for storing their own badges. The participants also think that such a platform would be useful for their organisations to issue a digital badges for students. All participants of the workshop received a digital badge for their participation in the seminar (issued in DIScoPlayer platform).
Recommendations for teachers before the start of the new semester
Dear Teachers,
With 2023 spring semester approaching quickly, we kindly remind you and recommend updating the following information in your Moodle courses:
Change the date of the First lecture and specify the date of the Last lecture (if you do not know it, indicate the last day of the semester – December 31). Administration -> Course administration -> Edit settings -> change Course start date and Course end date.
Update the dates of existing activities. It is possible to check and see the set dates of all activities at once -> Administration -> Course administration -> Reports -> Dates.
Pay attention to whether the educational material is available (visible) to students (you can check this by activating the student role by clicking on your name in the upper right corner in Moodle and then Switch role to -> Student).
Delete messages from previous semesters that were sent to the learners via discussion forum.
Update the study description (the student guide).
Delete student test attempts from the previous semester (it is required if you want to add/delete questions in the test activity).
View whether uploaded video materials (videos, links, etc.) are available to students.
Pay attention whether the authorship in your uploaded slides is indicated.
Final DIGI – HE conference in Brussels
On 24 January, the final conference of the DIGI-HE project will explore the key findings and unanswered questions which have emerged from the project's activities. As such, discussions will focus on success factors for digitally enhanced learning and teaching in European higher education institutions as well as the enabling role of European, national and institutional policies.
The director of Innovative Studies Institute at VMU, prof. Airina Volungevičienė, will make a presentation on "Boosting institutional strategies and approaches to digitally enhanced learning and teaching through reflection and self-assessment"
Registration is open until January 10, 2023
https://eua.eu/events/257-digitally-enhanced-learning-and-teaching-in-higher-education-enabling-factors-for-success-digi-he-final-conference.html
International conference "Moving Target Digitalisation 2022"
The International conference "Moving Target Digitalisation 2022" was organized on December 1-2, 2002, by DAAD, to discuss the challenges of digital education. Many invited speakers from the European Commission, United Kingdom, other countries made presentations, including the director of Innovative Studies Institute prof. dr. Airina Volungevičienė who made a presentation "The European Digital Education Hub – a Place for Knowledge Building).
The record of the presentation can be found here
Tony Bates Book "Teaching in a Digital Age"
Teachers, instructors and faculty are facing unprecedented change, with often larger classes, more diverse students, demands from government and employers who want more accountability and the development of graduates who are workforce ready, from parents who want more flexibility, and above all, we are all having to cope with ever changing technology. To handle change of this nature, teachers and instructors need a base of theory and knowledge that will provide a solid foundation for their teaching, no matter what changes or pressures they face.
Although the book contains many practical examples, it is more than a cookbook on how to teach. It addresses the following questions:
is the nature of knowledge changing, and how do different views on the nature of knowledge result in different approaches to teaching?
how do I balance the demands of my discipline with developing the skills that students will need in a digital age?
what is the science and research that can best help me in my teaching?
how do I decide whether my courses should be face-to-face, blended or fully online?
what teaching methods work best when teaching in a technology-rich environment?
how do I decide what is best done online and what face-to-face in blended or hybrid courses?
how do I make choices among all the available media, whether text, audio, video, computer, or social media, in order to benefit my students and my subject?
how do I maintain high quality in my teaching while managing my workload?
what are the real possibilities for teaching and learning using MOOCs, open educational resources, and open textbooks?
The book is free and freely available online
Discussion and presentation of the Digiprof project on sustainable development at TGM
The project Transparent Assessment for Online Learning by Digitally Competent Professors (DigiProf) was presented at the events of the National Distance Learning Week on November 4.
The week of distance studies was organized by Lithuanian Association of Distance and e-Learning (LieDM).
The theme of this year's week's events, the pursuit of innovation and sustainable development in technology-based learning, is closely related to the aim of the Digiprof project. The project aims – is to support HE teachers and HE institutions to design and implement transparent assessment for online learning and recognition of learning outcomes by proposing methodology, guidelines, practical tools and training material to develop their digital competences.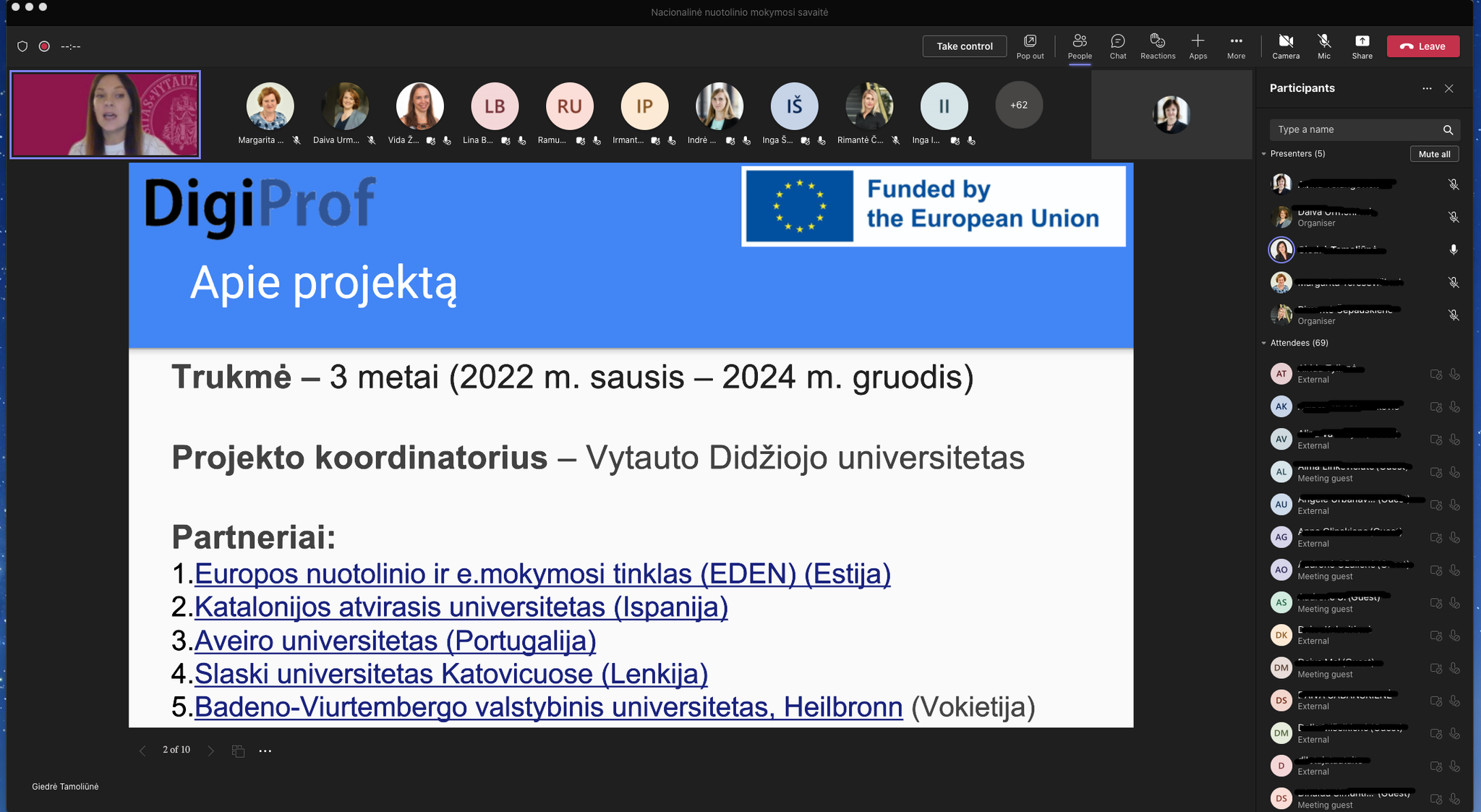 2022 European Online and Distance Learning Week
EDEN is hosting the European Online and Distance Learning Week (EODLW) for the sixth time. Virtual events takes place on 7-11th of November.
This week will be a good time to discuss and exchange experience and examples of good practice in open, online and distance education, to get new ideas and network, and focus will be particularly on the quality of education. During EODLW, you will have access to daily online webinars and panel sessions of expert scholars and practitioners who will present best practices and expertise in online and distance education as well as discuss with the audience on the challenges in shaping the future of education and how we can more fully harness the potential of new models of online and distance learning.
More information about EDEN European Online and Distance Learning week, presentation time and moderators and speakers of each day can be found at EDEN website. The participation in this event is free. We invite you to register and actively participate.
Mid-term event Sustainable and forward-looking approaches to digitally enhanced learning and teaching
On 12 October 2022, a Thematic Peer Group (TPG) Mid-term event Sustainable and forward-looking approaches to digitally enhanced learning and teaching, organized by European University Association (EUA) together with DIGI-HE project team. The online event consisted of a panel discussion with all three chairs (Philippe Emplit (Université libre de Bruxelles, Belgium) Mary Fitzpatrick (University of Limerick, Ireland), and Gerald Prescott (University of Saint Andrews, UK) of the TPGs on the key findings and challenges, followed by presentations in breakout rooms from each TPG and a Q&A session.
During the event, the participants had a chance to learn more about the progress of each TPG as well as to discover the key insights and main challenges related to digitally competent teachers in designing quality learning environments (TPG 1), collaborative teaching practice (TPG 2) and the needs and wellbeing of students and staff (TPG 3). Finally, the participants were welcomed to discuss examples of good practices with the participants from all three TPGs.
EDEN Research Workshop in Dubrovnik
Researchers from Education Academy and Institute for Study Innovations participated in EDEN Research Workshop in Dubrovnik and presented research results and outputs from international projects in the area of digitally competent organizations, application of learning analytics as a metacognitive tool and other research areas.
Famous researchers, such as Bart Rienties, he 4th most cited author and contributor in Learning Analytics in the period 2011-2018, participated in the workshop as keynotes, including EDEN fellows and professionals working in other technology enhanced learning areas