Airina Volungeviciene
airina.volungeviciene@vdu.lt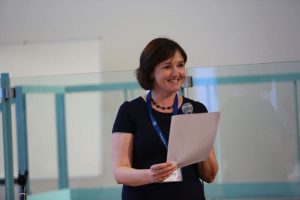 Prof. dr. Airina Volungevičienė
Director of Institute for Study Innovations
Professor in Education
Research leader and senior researcher in Global grant research
Past president of EDEN – European Distance and e-Learning Network
The President and the Chair of the Management board of EDEN – Digital Learning Europe
Education
Ph.D. Social Sciences, Education, Vytautas Magnus University, 2008
M.A. Pedagogy of Higher Education, Universite de Liege, 2004 (with distinction)
M.A. English linguistics, Vytautas Magnus University, 1997 (with distinction)
B.A. English Philology, Vytautas Magnus University, 1995
Prof. dr. Airina Volungevičienė has been working among leading researchers, methodology specialists and education policy makers in the area of technology enhanced learning (TEL) development in Europe and Lithuania since 1997. Having established the national network for distance and e-learning in the country, then Lithuanian Distance and e-Learning association (2010), she continued as a leader in research and project work to promote the development of TEL in in HE, schools, VET and adult learning. Her main concern at Vytautas Magnus University is to direct Institute activities to implement its mission: to advise University teachers to design online learning and teaching, to ensure the quality of online and blended learning on the course level, to consult how to organize online studies successfully, and to lead continuous professional development of HE and school teachers to develop their digital competences.
She is involved in EDEN Governance since 2010, as the Board member, Vice President for Research (2016 – 2019) and the President (current, since 2016). Collaboration with UNESCO IITE in application of technologies in education, OER development, as well as UNESCO IBE for Collaborative Master study program of "Curriculum development" allows mainstreaming of expert knowledge and the development of open professional collaboration of teachers and academia on global level.
Research interests
Since 2007, her research activities are based at Vytautas Magnus University. She coordinates international projects and implements research with the focus on:
TEL curriculum designing
Experimentation of innovations in education
TEL quality assurance
virtual mobility of students and teachers
open educational resources and practices
TEL integration into an organization
Open and online learning for digital and networked society
Recognition of open and online learning, valid solutions for virtual learning environments
Learning analytics as a metacognitive tool and method
She published more than 30 papers on TEL, virtual mobility and OERs, as well as 5 research studies and 2 monographs.