"Active Class" project training on the flipped classroom for active student engagement
5-day international teacher training "Flipped Classroom for Activating Students in Online Classes" was held online with university teachers from "Active Class" project partner institutions on 15 May-5 April 2022. The opportunity to learn about the currently very popular "flipped classroom" teaching methodology attracted a great deal of interest, and as many as 54 teachers participated in the training.
Training participants from Vytautas Magnus University, Silesian University in Katowice and Sofia University had the possibility to learn about the flipped classroom methodology and the possibilities and peculiarities of organizing it in a blended and online teaching and learning.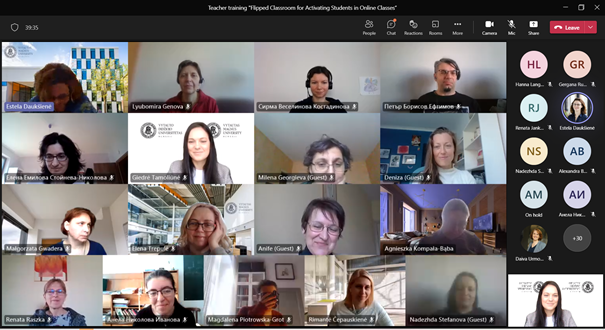 During the training, experts from Vytautas Magnus, Silesian and Sofia Universities shared theoretical presentations relevant to the planning and organisation of flipped learning and demonstrated already developed courses where flipped learning is or will be taking place, and the participants were able to apply the knowledge they had gained in practical tasks. In order to create a reflective learning experience and practice, participants were encouraged to share their experiences, challenges and recommendations to other colleagues.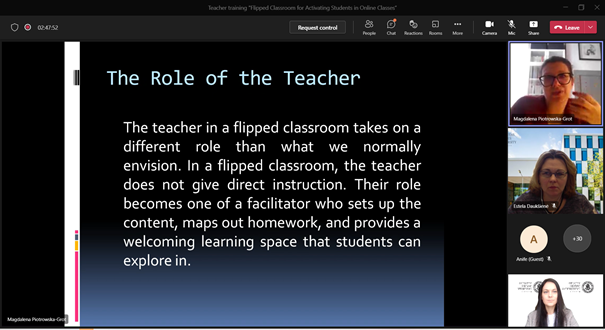 Active participants' involvement in the discussions not only helped to broaden the depth of knowledge about the possibilities of flipped learning, but also provided more ideas for engaging students and increasing their participation in the online classes.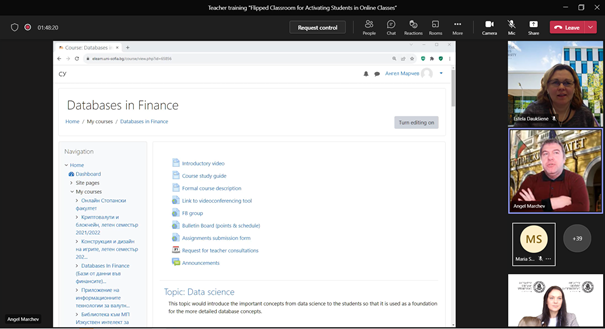 Course participants shared the digital educational tools and apps they use in their classes, both to engage students and to make the material or assignment more interactive.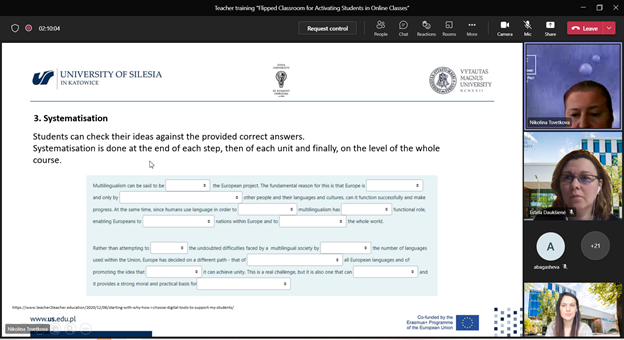 It is important to note that at the end of the training, most of the participating lecturers identified opportunities to integrate flipped learning in their courses and shared ideas and examples of how and what activities, tools and assessment strategies they plan to use in their flipped classes.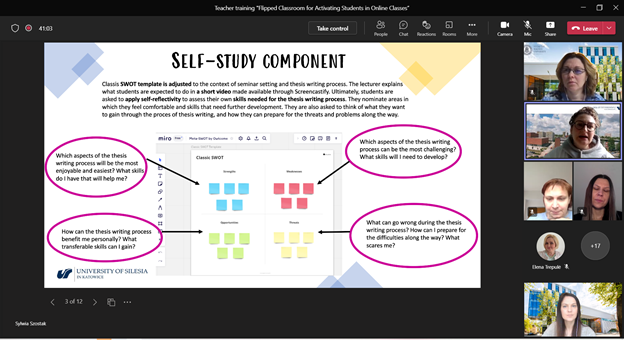 This is the first of three "Flipped Classroom for Activating Students in Online Classes" trainings organised and implemented by Vytautas Magnus University. The upcoming training will take place in May at the University of Silesia in Katowice (Poland), and the last one will be organised by Sofia University (Bulgaria) at the end of June.
The teacher training material will be available on the project website soon.
The teacher training course was organised as part of the Erasmus+ project "Activating Students in Online Classes", no. 2020-1-PL01-KA226-HE-096358.